Oleg Panfilov:  A movie about ISIS
http://ru.krymr.mobi/a/27410231.html


A scene from a movie showing the execution of a Russian agent by an ISIS militant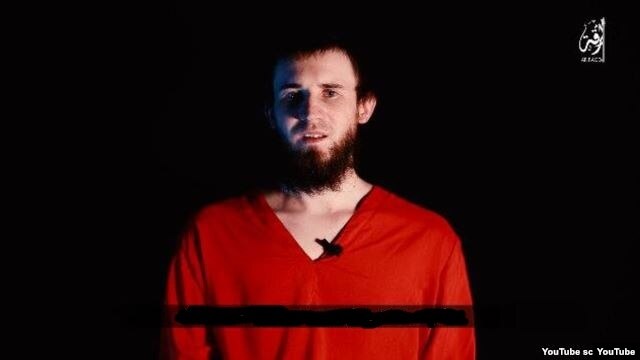 Especially for Krym.Realii, heading «Opinion»

The video appeared just before Putin addressed the Federal Assembly of the Russian Federation, which, apart from
the guests, was attended by a total of 1,000 people.  This speech was unscheduled - after a downed Russian SU-24
fighter jet Putin wanted suddenly once again to show the world "gruel".  Compared to the previous speeches, he has
a short speech, lasting just 56 minutes where the main topic was of course Turkey and the terrorism in the world,
which hindered the development of Russian democracy. Since the words "terrorism" and "Turkey" were uttered
successively, the effect produced was the same - and according to Putin, it was the same thing. The discussion on
Syrian video began a bit later, but it was done in the context of a fiery speech by the Russian president, or as a
supplement to his speech.

Putin began his speech with the topic of terrorism.  He announced that there were widows - that of the pilot of the
downed SU-24 jet and of a killed marine from rescue helicopter, adding that women have "lost their husbands in
the war on terror."  Thus Putin called the Turkish army terrorists. He went on to say that "Russia has long been at
the forefront of the fight against terrorism", that "it is a struggle for freedom, truth and justice.  For the life of the
people and the future of civilization." Putin mentioned Beslan and the Moscow theatre hostage drama, Moscow
subway bombings and attack on the Nevsky Express, house explosions in Moscow, however, forgetting to say that
the culprits have not been found and the names of terrorists are still unknown

Putin has an experienced speechwriter, who writes texts for him.  It is important that the audience could immediately
hear about Turkey´s bad behaviour after reminding of the terrible tragedies. So that "Turkey" and "terrorism" would be
associated in the memory.  Putin continues:  "We know, for example, who in Turkey is stuffing their pockets and give
money to terrorists in the sale of stolen Syria's oil.  That is the money for which bandits recruit mercenaries, buy
weapons, organize inhuman terrorist acts against our citizens and against the citizens of France, Lebanon, Mali and
other countries. We can remember also that it was Turkey where militants who were active in the North Caucasus in
the 90s and 2000s hide themselves, and have been given moral, material support. And even now we notice them
there." So - that´s it, now all people who heard Putin's speech, know exactly what Turkey really looks like - a terrorist
country that affects half the world.

Putin is well aware that Turkey will respond these charges and tried to smooth out any confusion:  "Meanwhile, the
Turkish people are good, hard-working and talented.  We have a lot of old and trustful friends in Turkey. And I
emphasize that they should know that we do not put an equal sign between them and a that part of today's ruling
elite, who is directly responsible for the deaths of our military in Syria."  Over the past years Putin spoke similarly
about Georgia - Saakashvili is bad, but the Georgian people good, we love them. It was like the Russian army was
fighting not with the Georgian people, but with Saakashvili in Tskhinvali, and he killed Georgian soldiers accidentally,
not on purpose at all. It is the Soviet tradition of hypocrisy when all the Kremlin leaders quarrelled with Western
leaders, but always said that nothing against ordinary French, German or English people. And if it is not the common
people who choose their leaders, then who?   Putin said that Turkey's response is "aiding terrorists":  "Let it be known
for those in Turkey who shot in the back of our pilots, who are hypocritically trying to justify themselves, their actions
and to cover up the crimes of terrorists." Then he went on with a fundamental violation of the ethics with regard to
Islam - not being a Muslim, he referred to Allah:  "But, perhaps, Allah knows why they did it.  And, apparently, Allah
decided to punish the ruling clique in Turkey, depriving them of intellect and reason."  It is difficult to think of greater
insult for a Muslim than that, but Putin said these words deliberately.

The day before Putin's address a video appeared on the Internet in which an ISIS militant is "cutting off" the head of
"a Russian agent".  It is odd that the militant is dressed in a uniform made in Russia, in which the Russian special
forces have been fighting already half a year in Eastern Ukraine, and also wore it in the annexation of the Crimea. 
This is not the first time when ISIS militants show off in the Russian uniform.  As is evident from the video, the
victim´s name is Magomed Khasiev and, to be more precise - he is a Chechen according to Ramzan Kadyrov. 
Later it turned out that the real name of 23-year-old "Chechen" is Eugene Yudin and he was born  in the Chelyabinsk
region in 2012, being allegedly adopted by a Chechen Markha Khasieva. According to other sources, he was adop-
ted at age 14, the publication of site LiveNews revealed that Eugene Yudin has been in a children's home (!) at 10
when he "embraced Islam" and "took Mohammed for his new name."  That is a usual practice for new converts to
Islam – they have no consultant, teacher nor recommendations.

Russian media has already written so much of the details of the victim´s and the executioner´s life, so that it is
impossible to distinguish the reality and fiction. As for the second character, things are even more confused. 
The ISIS militant turned out to be also an ethnic Russian, born in the Yamal-Nenets autonomous region 28 years
ago, named Anatoly Zemlyanka. According to Russian newspapers he was in Syria in 2013.  Reporters tried to
restore his biography: he lived in Noyabrsk, went in for karate, was a modest and quiet person.  His interest of
Islam remained unnoticed.   He joined ISIS, but how exactly - it is not reported. Local prosecutors and police keep
silent.  Ramzan Kadyrov vowed to avenge Khasiyev-Yudin´s murder.  All this involves so much propaganda that it
overshadows the reality, so it is impossible today to objectively present an honest and accurate picture.  But some-
how, such a story surfaced the day before Putin's address. Most likely, "the movie" was to complement Russian
leader's fiery speech on terrorism, illustrating the frightfulness of this phenomenon. In fact, if you look closely at
the video, the scene of the execution looks like a skilful staging - a victim in a red jumpsuit, filmed at least by three
cameras, professional staging lighting, cutaways, the movement of the pupils - first Khasiev-Yudin reads the text,
then the same scenario - cutaways and Tolik reading is shown in different angles. The texts are presented delibera-
tely in pathetic way to make the audience freeze in horror of the tragedy. In his "final word",  Khasiev-Yudin, refers
8 times the FSB, to stick this abbreviation in the memory, he mentions "FSB agent Shamil" nine times,
 ("involved Grant" three times. Although the video is a professional film, it involves dramatic absurdities: for example,
in spite of Khasiev-Yudin´s ties to FSB, it took 2-3 weeks for him to get the international passport. Or his brothers,
whom FSB requested to spy on, have become suddenly "martyrs", that is, they have gone to another world.
Consequently, there is nobody to check out.

Tolik Zemlyanka also reads the memorized text, but he goes a little astray, like a bad actor - but again there are two
or three cameras shooting different angles.  He deliberately utters words with an accent - to show how cool "Islamist"
he is, though he has been involved in a couple of years ago. The scene of the execution is wonderful, professional-l
ooking production – setting are the banks of the sea or the broad river. The video witnesses the touch of master´s
hand, a professional editor has made good use of different camera angles, close-ups of well-groomed hands of the
victim, cameras moving from bottom to top, left to right, and other "tricks", typical of a professional film.  Hands of

the victim handcuffed at the wrists are shown in several times, but there is - not a trace - no redness nor bruising.

Unbelievable! Red jumpsuits, worn by all victims of ISIS are like this custom-made garment from the Russian cloth

factory, of the right colour to remind of Soviet propaganda - of the red flag often seen in combination with other

communist symbols, pentagle, etc - as a burning flame of ever-fighting communists.  Red fabric is easily stuck in the

memory and always associated with something, in this case with the victims of ISIS.

And at last, this execution is shown in passing as an insignificant detail in this video propaganda. Tolik Zemlyanka

is slitting Zhenya Yudin´s throat like cutting a sausage, although professional butchers do it in another way - they

usually cut from ear to ear, cutting the carotid artery.  In principle, it is not clear from the scene if Tolik Zemlyanka

has cut the man´s throat or he has pretended doing it.  It is not clear where the action is taking place: most of the

movie is filmed in a professional studio with good lighting and recording equipment.  The second scene raises a lot

of questions - what river is it and where it is located. Several scenes come into my mind - the profile of Putin and

professional arrangement of subtitles.  Whether ISIS has recruited graduates of cinematic art or the terrorists

themselves can earn major film awards.

The views expressed in the category "Opinion" convey the views of the authors and do not necessarily reflect the

editorial position


Oleg Panfilov:
Professor at Ilia State University, Georgia,  founder and director of the Center for Journalism in Extreme Situations(2000-2010)
ChechenCenter.info
Category: News events